Priceless Pictures Campaign
Improving lives, one project at a time.
The Prowers Medical Center Foundation is working hand-in-hand with the medical center, on efforts to build a new imaging center with better space and upgraded equipment. As part of that campaign, the Foundation has committed to raising $1.6 million for an MRI scanner with vital upgrades and advanced capabilities. The campaign will span two years from 2019 to 2021.
Why Consider Giving
Imagine your child starts complaining of unusual headaches or your friend's doctor suspects she has suffered a mini-stroke. Or maybe your spouse has severe back pain that keeps him from doing the things he enjoys.
Now, imagine that you have to wait for an appointment to access an MRI machine that doesn't have the latest technology, one that's housed in a trailer in the parking lot with limited access. It's adequate, but it doesn't have the upgrades for specialized views of the brain to fully diagnose your child's headaches or your friend's stroke, or upgrades to give precise details on your husband's orthopedic disorders.
To boot, your loved one may have to wait for an appointment, receive unnecessary exploratory surgery due to less precise imaging, live with the consequences of a missed tumor or lesion due to less than the very best scans, or drive 100s of miles to access the latest technology.
It doesn't have to be like this.
With your help, we can bring the very latest in MRI technology to Lamar, with precision that allows physicians to pinpoint even the smallest abnormalities, empowering doctors to identify conditions early and save lives.
We would appreciate the chance to sit down and talk with you about how your gift could help us reach our campaign goal of $1.6 million over the next two years.
A picture is worth a thousand words; an image to diagnose and treat illness is priceless.
Priceless Pictures Campaign Committee
Please feel free to contact anyone on our campaign steering committee.
CHAIRS
Amber Rider
Carrie Smith
CAMPAIGN STEERING COMMITTEE
Connie Akers
Lawrence Booker
Julie Branes
Connie Brase
Karen Bryant
Ronny Farmer
Steve Gilgen
Steven Givan
George Gotto
Brenda May
Karl Nieschburg
Matthew Reinhardt
Ty Rushton
Tina Sandoval
Ryan Sneller
Contact us
401 Kendall Drive, Lamar Colorado 81052
Phone: 719-336-7065 Fax: 719-336-7207
foundation@prowersmedical.com
or
Amber Rider
719-336-6776
amber.rider@prowersmedical.com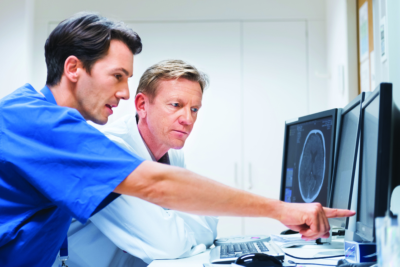 Benefits of New MRI
Upgrades for specialized views for brain trauma, heart conditions, orthopedic disorders and breast abnormalities for improved diagnosis

Stronger, more powerful magnet and Tim4G + DOT Technologies for sharper images and shorter exam times

Expanded access in comfortable setting